Choose a Level to View:
Summer Groups for Beginners
Summer is a fantastic time to join our Keys for Kids program! Join the fun and make music with your child over the summer, with no long-term commitment. If you plan to enroll in a Keys for Kids piano class in the fall, this is a great way to experience a positive introduction to the program and to evaluate your child's interest. Parent participation is required.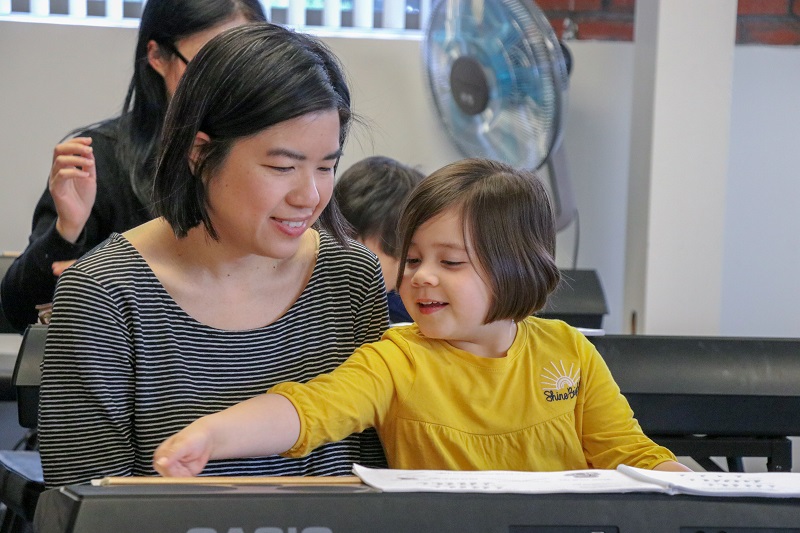 List of Beginner Summer Classes
TAKE OFF TO MINI KEYS
Ages 4 - 5

An exciting first music experience with age-appropriate introductions to solfege singing, keyboard playing, ear and rhythm training, movement, and reading music. The elements of music are introduced in an interactive approach to best utilize a child's memory and enthusiasm. Child and parent bond as a music team both in class and at home. Enjoyment and encouragement are emphasized as children develop a firm musical foundation, which can be applied to any future instrument. This class continues as Mini Keys 1 in the Fall.

TAKE OFF TO KINDER KEYS
Ages 6 - 7

A comprehensive beginner's course incorporating all of the Mini Keys® activities, and modified for the more advanced abilities of this age group, adding creative and ensemble activities. A wide variety of games and exercises inspire enthusiasm and confidence, and reinforce musical concepts. This engaging environment introduces children to the same notation and techniques used by generations of musicians and composers. Child and parent work as a music team in class and at home on weekly exercises with workbooks. This class continues as Kinder Keys 1 in the Fall.

TAKE OFF TO SUPER KEYS
Ages 8 - 12

A fast-paced, comprehensive beginner's course incorporating an introduction of the Kinder Keys® activities, plus more advanced music theory and exercises that employ this group's greater ability to analyze and memorize patterns in melodies, harmonies, and rhythm. New musical elements are reinforced through a variety of individual and ensemble keyboard activities. Students learn to transpose, compose, perform solos, and develop ensemble technique by being part of a keyboard orchestra. This class continues as Super Keys 1 in the Fall.